Harry Potter: A History of Magic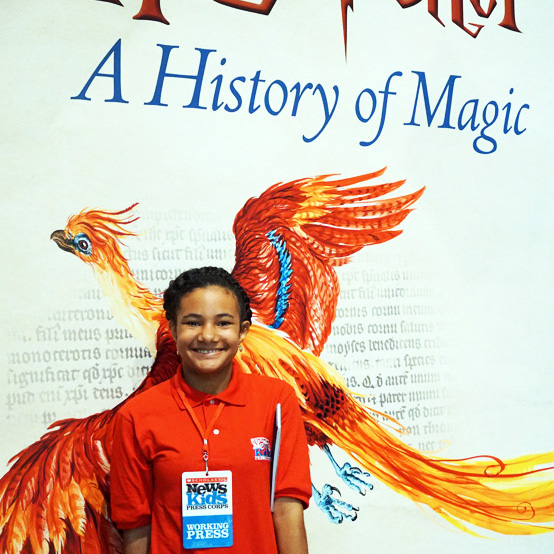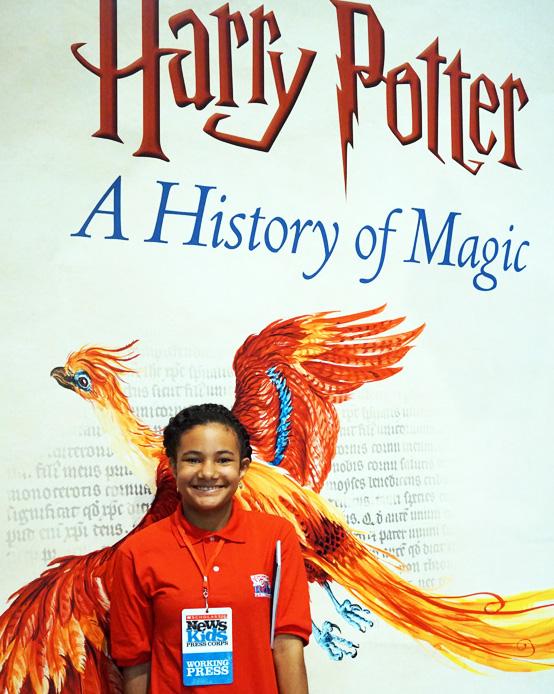 While the outside of the New-York Historical Society remains unchanged, there is plenty of magic inside. A new exhibit celebrates the 20th anniversary of the Harry Potter book series in the United States. The beloved series by British author J.K. Rowling has sold more than 500 million copies worldwide. 
"We take a look at the history of magic in America," explained Alexandra L. Krueger, manager of museum affairs at the Historical Society. "We also look at the history in Ethiopia, the United Kingdom, and all over Europe."
The interactive exhibit, "Harry Potter: A History of Magic," is open through January 27, 2019. It showcases more than 100 artifacts from the British Library, the Historical Society, and Scholastic Inc. On display are medieval descriptions of dragons and griffins, original artwork for the book series, and costumes from Harry Potter and the Cursed Child, the award-winning play based on a story by Rowling, John Tiffany, and Jack Thorne.  
THE DARK ARTS
Upon entering the exhibit, visitors are welcomed by the four founders of the fictional Hogwarts School of Witchcraft and Wizardry: Godric Gryffindor, Helga Hufflepuff, Rowena Ravenclaw, and Salazar Slytherin. Six rooms are designed to represent classes at Hogwarts: Potions, Herbology, Charms, Astronomy, Divination, Defense Against the Dark Arts, and Care of Magical Creatures. 
An invisibility cloak, a scroll that instructs visitors how to create a philosopher's stone, and books suspended in the air help bring the exhibit to life. One can also see original Harry Potter artwork by illustrators Brian Selznick, Kazu Kibuishi, Jim Kay, and Mary GrandPré.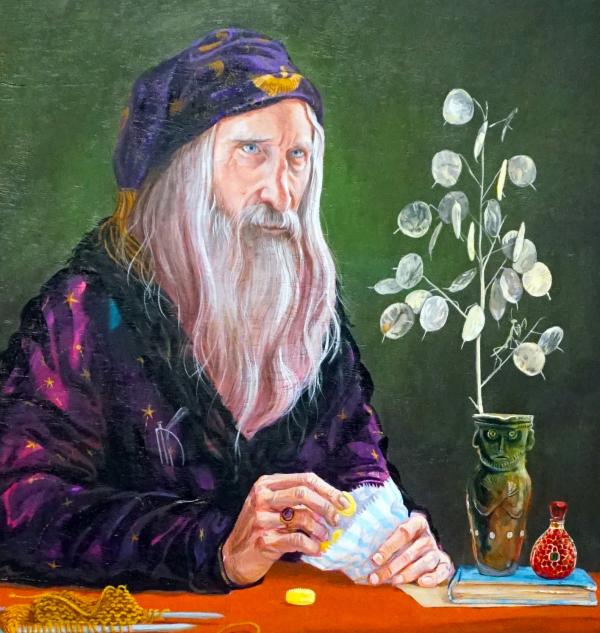 While touring the exhibit, I spoke with Alexander Lock, curator of modern archives and manuscripts at the British Library. Lock is also co-curator of the exhibit, which originated at the British Library. Here are excerpts from our conversation, which has been edited for brevity and clarity:
Why was the New-York Historical Society chosen for the site of the exhibit in the United States?
New York, in itself, is a city full of magic, full of great, fantastic beasts. Working with the Historical Society has been wonderful. They have a range of collections that really speak to our items, including John J. Audubon's Birds of America. We have the published edition in the U.K., but they have the original watercolors. It just felt like a natural fit—they are a library and a museum. They've got such great collections that augment what we have.
How did Rowling draw on the history of magic and folklore for the Harry Potter series?
The books are rich with stories from the history of magic. In the U.K., the first book is called Harry Potter and the Philosopher's Stone. That, as this exhibit shows, was a real thing. Alchemists were looking for that in the Middle Ages.
Rowling studied French and the classics [in college]. That's evident in Fluffy, a three-headed dog just like Cerberus in Greek mythology. And a lot of people don't know that Mandrakes are real plants. According to folklore, people were frightened by their screams. At the British Library, we have lots of books that explain how to uproot Mandrakes safely.
Do they really scream?
They don't, thankfully. A lot of what Rowling has created is also from her own imagination, and there's a very strong creative element there. But there are certain touches that do come from the history of magic.
What challenges did you face mounting the exhibit?
There were quite a few. I suppose the biggest one was actually selecting items. The British Library has more than 200 million items. Narrowing that down to 200 items is very difficult. As I mentioned, we have several texts on Mandrakes, as well as Bezoars. Finding the perfect texts to display was difficult, but it has been a pleasure to work with Rowling and her team. 
Bezoars are real?
Exactly. Did you know about that? The best thing I did, or should I say the silliest thing I did, was buy them online.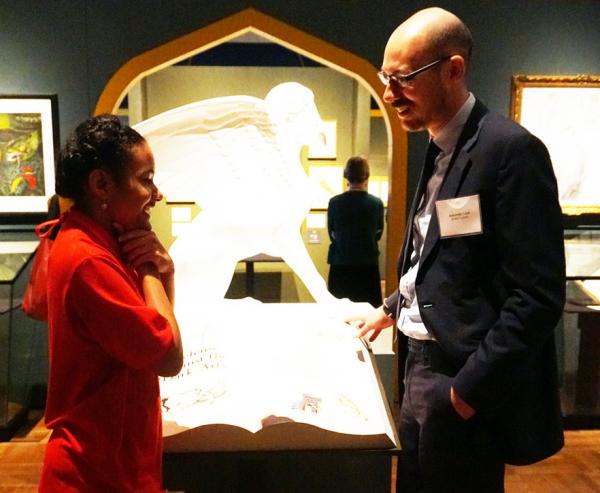 You bought Bezoars online?
Yes, on eBay. Mine come from a llama. My girlfriend didn't really want me to have them, but I got there in the end. There's a congruence of matter that mixes up and gels in the stomachs of certain animals. The resulting Bezoar stones were once considered a universal antidote to poison. They were collected during the Middle Ages and beyond. Popes, kings, and princes collected them—as much to display status as to be an antidote to poison. Bezoars are highly-prized objects. That's why the one in this collection is encased in gold filigree. It comes from the gut of a goat.
How does magic in the United States differ from magic in Europe?
The difference is that some magic is good, but other sorts of magic, witchcraft especially, are dangerous and need to be controlled. The reasons for what is allowed have varied over time, but the exhibition shows that magic is a universal aspect of human nature across time and place.
We've got 3,000-year-old oracle bones from China sitting next to a 15th-century manuscript on Mandrake roots, with crystal balls from the 1950s for crystal gazing. When I was traveling around New York City while installing this exhibition, I was on the subway and people were advertising palmistry. I saw people in palmistry booths and thought, "Wow, magic is still prevalent here today. I'm not sure about the different forms of it, but it's universal, something that we all have. Even though we might suggest that we're very sophisticated, we all have lucky charms. That's a form of magic.
If you were a student at Hogwarts, what would be your favorite—and least favorite—subjects?
I'd love to study Care of Magical Creatures. I love Hagrid, I'd love all of the animals you get to work with. I think the one that I'd be least good at is Potions. I'd probably still enjoy it but I'd be very scared of Snape.